Dec 06 2006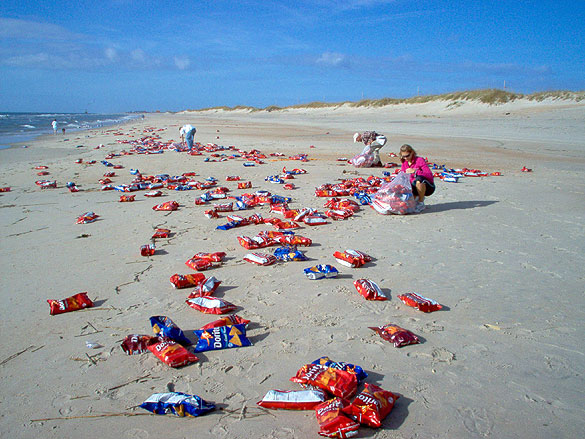 From http://antijacobs.livejournal.com/9900.html:
"On Thursday morning, residents of Cape Hatteras in North Carolina were
in for a bit of a surprise, especially those who liked Doritos. A
damaged tractor-trailer-size shipping container washed up on the beach,
bringing with it thousands of bags of the Doritos — Cool Ranch, Nacho
Cheese and Spicy Nacho — that it contained. Locals, from shopkeepers
to fishermen, grabbed as many bags as they could carry from the water
and from where they lay strewn on the sand. One person even filled up a
pickup truck with them – all in the name of "helping with cleanup," of
course. The chips were almost entirely undamaged, thanks to their
airtight packaging.
The feeding frenzy only lasted through the
morning, as the container was secured, still containing an undetermined
number of bags of chips, by the late afternoon. The boat that lost the
container has not been tracked down yet, although the missing shipment
is sure to be noticed when the crew reaches its eventual destination."
3 Responses to "Why doesn't this happen in San Diego?"
Indeed.

#

Jess

on 08 Dec 2006 at 11:26 am

I wonder how they got lost… I wonder what would have happened if a package had been punctured, and doritos had leaked out. Would the fish like it?

But wow, I wish that happened here. 🙂 I'm tempted to sing the (DO)RITO BANDITO song. (Well really it's Fritos, but the two rhyme so s'all good)

#

Nuala

on 16 Jan 2007 at 6:05 pm

This is not far from where I live.
Leave a Reply